Moving from Uluru to Recognition
Summary of Fr Frank Brennan's keynote address to the National Aboriginal and Torres Strait Islander Catholic Council Assembly in Perth entitled: 'Strong Faith. Strong Youth. Strong Future — Walking Together in a movement of the Australian people for a better future'.
As published Eureka Street, 1 October 2018
Regardless of previous discussions about Indigenous constitutional recognition, we all need to accept that the 2017 Uluru Statement from the Heart is the new starting point. Though it has been the prerogative of Indigenous Australians to name this starting point for constitutional recognition, the journey will be one of compromise and shared deliberation, and the destination will need to be one identified and owned by all Australians. That's why we all need to talk and engage respectfully. At the moment, we're all stuck in our corners 'going nowhere, fast' as the poet Bruce Dawe would say.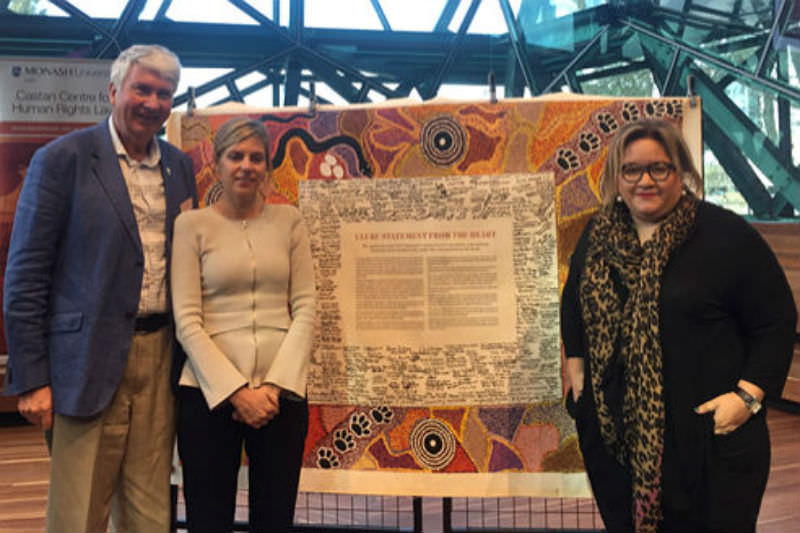 There is no point in proceeding with a referendum on a question which fails to win the approval of Indigenous Australia. Using the light of the Uluru Statement from the Heart, we need to follow the roadmap of the interim report of the Joint Select Committee on Constitutional Recognition relating to Aboriginal and Torres Strait Islander Peoples which was tabled in Parliament in July 2018.
That committee is being chaired by Senator Patrick Dodson (with great experience in these matters having been the co-chair of the Expert Panel set up by Prime Minister Julia Gillard) and by Julian Leeser, one of the few members of the Coalition parties who has dedicated energy and risked some political skin advocating Indigenous recognition in our Constitution.
Our lodestar must be the Uluru declaration: 'We call for the establishment of a First Nations Voice enshrined in the Constitution.' I make no apology for bluntly stating that nothing will be gained by those who advocate for the immediate insertion of a voice into the Constitution — sight unseen, unheard and untested.
That suggestion has been rejected by the last three Liberal prime ministers — Abbott, Turnbull and Morrison. It doesn't matter where you find your Liberal Prime Minister on the political spectrum in the Liberals' broad church. He or she will not be advocating or supporting a voice being put into the Constitution untried and untested. Those who advocate for that will be proposing a course that has no hope of support from the Coalition parties.
Australians will not vote for a constitutional First Nations voice until they have first heard it and seen it in action. When first hearing about it, I presumed that the First Nations voice would replace the existing National Congress of Australia's First Peoples. That presumption may well be mistaken as the Congress has told the joint parliamentary committee: 'If properly funded and supported, National Congress could function as the voice to Parliament.' Those of us who are not Indigenous need to wait and hear from Indigenous Australians whether they think the National Congress could or should be the voice to Parliament.
When ATSIC was first established in 1989, the number of Australians identifying as Aboriginal and Torres Strait Islander was less than a quarter of a million. At the last census, it was almost 650,000. The aspirations of the self-identifying Indigenous Australians of the 21st century are very diverse. A constitutionally recognised body would have much less flexibility than the present Congress. There is a need for a lot further discussion both within Indigenous communities and within Australian society generally about what such a First Nations Voice might look like, and what it might do.
"Shorten is dead right. There is no point in trying to move from Uluru to constitutional recognition except by the long and tortuous path of prior legislative enactment, road testing the model."
On 12 February 2018 the Leader of the Opposition, Bill Shorten, in his 'Closing the Gap' remarks told Parliament: 'I ask the government to reconsider their rejection of the Statement from the Heart. But, if we cannot work on this together, the next Labor government will, instead, as a first step, look to legislate the voice to parliament.'
Shorten went on to say: 'If we form a government, we will sensibly move to finalise legislation which establishes the voice and includes a clear pathway to constitutional change, enshrining that basic principle that you don't make decisions about people without talking to them. In fact, I think it will be easier for a referendum to succeed and harder for a scare campaign to be run, if we already have lived legislative experience of such a body.'
Shorten is dead right. There is no point in trying to move from Uluru to constitutional recognition except by the long and tortuous path of prior legislative enactment, road testing the model.
The Labor position has been restated in Parliament in the last month or so. Patrick Dodson told the Senate on 14 August 2018: 'We need to work through the issue of what questions should be put to the people and whether, in order to build support, it would be sensible to legislate first and then, after experience shows the voice to be effective, put the question to the people.'
Labor front bencher Mike Kelly when presenting a petition from the Sapphire Coast on the Uluru statement told the House of Representatives on 16 August 2018: 'This cry from the heart needs to be answered. If we can't get a bipartisan approach to this then Labor will push on. In the absence of cross-party support necessary to achieve that constitutional change in government, Labor will legislate for a voice to honour the aspirations of the Uluru statement, to have that voice to parliament, not in parliament.' The legislative approach is the only realistic way forward.
Just two weeks ago, the National Congress of Australia's First Peoples published a supplementary submission to the joint parliamentary committee. The Congress has now told Parliament: 'National Congress believes that the voice should be initially created via legislation ... This is necessary due to the urgent need for greater input from Aboriginal and Torres Strait Islander communities in the design and delivery of government policy and programs.'
Congress remains unapologetically self-promoting when they say: 'We reiterate our suggestion from our previous submission that National Congress, if properly resourced, could function as the voice.' They may well be right. But this is the issue on which we all now need to hear from the broad spectrum of First Nations opinion.
Commentators like me have seen wisdom in trying to limit the role of a national voice to those legislative and policy issues unique to Indigenous Australians — those matters which you would expect to be listed in any constitutional acknowledgment. But the Congress is insistent that the national voice would need the mandate, capacity and resources to comment on all manner of legislation which impacts in any special way on First Australians. They have submitted: 'National Congress asserts that the national voice must have the ability to review any legislation which it believes may have a tangible impact upon the lives of Aboriginal and Torres Strait Islander peoples.' They give as an example the cashless debit card being trialled as a welfare reform.
It's this sort of submission which fuels the fears of conservative leaders like the present Prime Minister Scott Morrison who see any such voice as a 'third chamber' of the Parliament — having a say on all manner of general legislation in relation to health, education, welfare, and housing, as well as uniquely Indigenous issues such as native title, sacred sites, cultural heritage and languages. As Prime Minister, Morrison has echoed the previous remarks of Malcolm Turnbull and of Nationals Leader Barnaby Joyce, saying, 'I don't support a third chamber ... People can dress it up any way they like, but I think two chambers is enough. The implications of how this works frankly lead to those same conclusions, and I share the view that I don't think that's a workable proposal.'
No one is advocating a third chamber. Urging the cautious approach of legislation and road testing prior to any referendum, I am conscious that some Indigenous leaders, including Noel Pearson, will think I am not helping the cause. I beg to differ. Nothing else is achievable.
 "It will take both Indigenous and non-Indigenous leaders coming together in trust. Otherwise we will all continue to circle each other around the base camp."
 It is a very long, difficult and winding road from Uluru to constitutional recognition. On such a journey, we will not find common ground except by compromise, unless of course there is agreement about the principles at stake, and agreement that there is only one way to apply those principles to the challenges at hand in the contemporary context. Even among Indigenous Australians there is no unanimity on that.
To find common ground, we must be committed to trusting conversation. We need to build bridges and forge relationships across differences. We need to be uncompromising in stating our principles — our understanding of what is right and wrong, our understanding of what is optimal and what is not. But then we need to be able to compromise in effecting laws and policies which give due weight to the varying viewpoints agitated in the process of political deliberation. If that goes for laws and policies which can be drawn up today and changed tomorrow, it must go even more for constitutional change which requires the vote of a supermajority, which binds even the elected lawmakers (no matter what their popular mandate) and which is very difficult to change once enacted. The art of leadership is found in the political deliberation able to find the solution to a problem which is appropriately principled, workable and popular.
It will take both Indigenous and non-Indigenous leaders coming together in trust. Otherwise we will all continue to circle each other around the base camp. It's time to start the trek towards constitutional recognition via the path of legislation, road testing the voice. This will require orthodox and unorthodox thinkers and actors able to effect compromise so that in the end a majority of people in a majority of the states will support the constitutional recognition of an Indigenous voice to Parliament which henceforth will always include Indigenous and non-Indigenous members.
Frank Brennan SJ is the CEO of Catholic Social Services Australia. 
Main image: Frank Brennan, Kristen Hilton of VEOHRC and Professor Megan Davis of UNSW at the Castan Centre Human Rights Conference 2018 in front of the Uluru Statement from the Heart.